Quick start
Imagine you have hundreds of pictures of cats, and you need to find out whether the cat in each picture is in a good or bad mood. It's rather difficult to solve this problem with a computer, but you can get internet users to do it for you by creating a task for them in Toloka.
First you need to decide what the task will look like and how you will set it up in Toloka:
The task will show an image and a choice of responses: "good", "bad", and "loading error" (if the image didn't load).

Since the task is in English, you need to select only English-speaking users.

To prevent users from guessing, add a restriction: no more than two "fast responses". A response is considered too fast if it was chosen in 2 seconds or less.
Next you need to create a task and check whether the settings work correctly (make sure your task is displayed correctly, and the filters and quality control settings work the way you intended). Try completing the task and make sure that you can get the responses.
When your task is ready, publish it in the production version of Toloka. You can get the responses as users complete the tasks.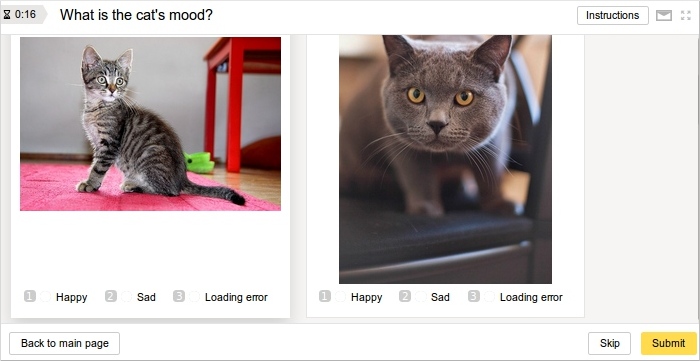 Check the tasks
After starting the pool, make sure that all your settings are working and the tasks are displayed correctly:
Log in to the sandbox with the requester's username and follow the Add trusted users link on the Users page.

Click the Add user button and enter the username of the created account.

Perform the tasks in the sandbox under the username of a trusted user.
Get responses
After completing at least one task, you can get the responses:
Request

GET /api/v1/assignments?pool_id=14025
Host: https://sandbox.toloka.yandex.com
Authorization: OAuth <OAuth token>
Responses are returned in the following format:
{
  "id": "566ec2b0ff0deeaae5f9d4fe",
  "task_suite_id": "566ec2b0ff0deeaae5f9d4ff",
  "pool_id": "14025",
  "mixed": true,
  "user_id": "566ec2b0ff0deeaae5f9d500",
  "status": "ACCEPTED",
  "created": "2015-12-15T14:52:00",
  "submitted": "2015-12-15T15:10:00",
  "public_comment": "Well done!",
  "owner": {
    "id": "ac1e4701364b4ccef8a4fe10a8980cff",
    "myself": true
  },
  "tasks": [{
    "id": "57a333ea-2827-4c1c-ab1f-8ab1bfe4ee7e",
    "input_values": {
      "image": "https://toloka.yandex.com/api/proxy/photos/9.jpg"
    }
  }],
  "solutions": [{
    "output_values": {
      "result": "OK"
    }
  }]
}
When the project is set up to your satisfaction (tasks are displayed correctly, and user filters and quality control rules work properly), you can move it to the production version of Toloka. You can do this in the requester interface (see the Requester's guide) or using the API for the Toloka production version (send a request to https://toloka.yandex.com):