At Toloka, we're doing lots of new things with generative AI — like building data annotation pipelines that integrate LLMs and human input. Today we'd like to dig into the human part of the equation. Just who are the human experts collaborating with LLMs?
Introducing AI Tutors
Meet our AI Tutors — experts with profound linguistic knowledge ready to advance AI language projects and help you build accurate, unbiased AI apps.
AI Tutors add an extra layer of insight on top of Toloka's global crowd. This carefully selected workforce handles complex written tasks for LLM projects that demand exceptional quality. Their job is to guide AI products towards a responsible and ethical future.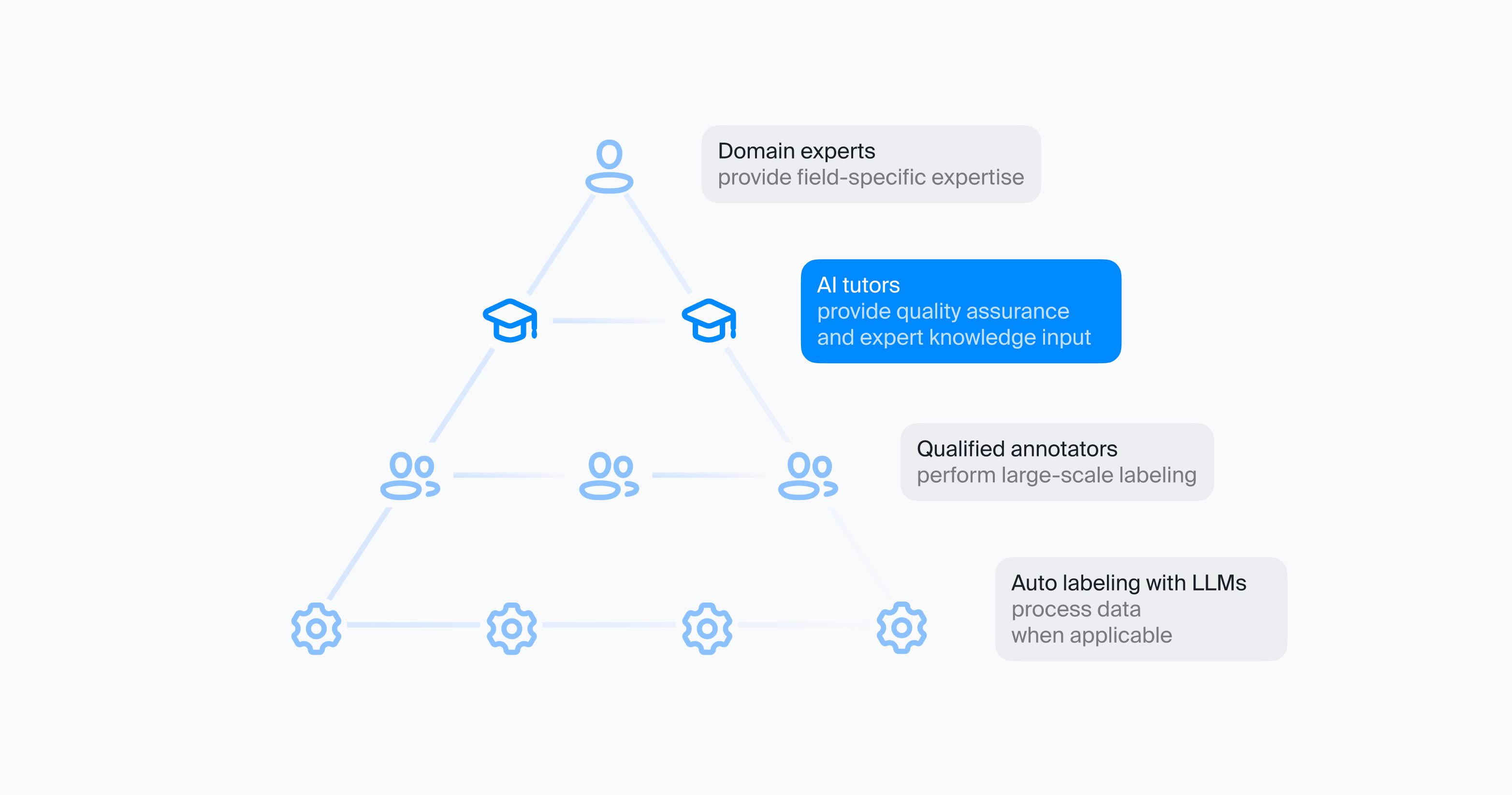 Here are some examples of what AI Tutors can do:
Create best-in-class texts to fine-tune LLMs
Perform fact-checking and high accuracy classifications
Write prompts and conversations for LLMs
Conduct controlled red-teaming exercises
Going beyond English in LLMs
While popular LLMs are pre-trained mostly on English content, many companies are fine-tuning LLMs to perform equally well in other languages. Toloka offers unique multilingual support for collecting text data and evaluating LLMs.
Our growing community of AI Tutors is distributed across the globe, with 8 world languages currently supported (and more languages on the way!). If you're looking for non-English data, keep in mind that other data providers may offer a translated or adapted product with inferior results.
At Toloka, language support means we have a vetted team of language speakers ready for your projects. AI Tutors write in their native language to craft the most natural-sounding texts and boost the accuracy of your LLM-based products.
How we select AI Tutors
Our AI Tutors pass a rigorous set of tests and interviews to verify language skills with versatile styles of writing, fact checking, grammar, and ethics. We train our teams to follow the principles of Responsible AI and make sure that every task contributes to building AI that is trustworthy, fair, helpful, and safe.
In turn, we monitor projects diligently and protect the mental health of our AI Tutors by limiting exposure to sensitive content — an important part of our commitment to Responsible AI.
How we control quality
Our tailor-made approach delivers customized onboarding to train the AI Tutor team before the start of each project.
Two-way communication with AI Tutors provides feedback for calibrating requirements and expectations along the way.
Spot checks detect quality issues to resolve with the editorial team.
The result is exceptional quality for aligning your AI.
How your projects can benefit from AI Tutors
1. Expert input for complex challenges: Educate your models with well-written texts that can't be scraped from the web, run fact checking on complicated topics, and more.
2. Unbiased approach: Our diverse global teams collaborate on guiding your AI to be fair and unbiased.
3. Optimal quality in new languages: Adapt an LLM to a specific language or region with the expertise of native speakers who know the ins and outs of the cultural and political context.
4. Efficiency and flexibility: We can design a custom pipeline to combine input from AI Tutors, LLMs, and our general crowd for best performance at each stage of your ML project.
If you have complex AI problems to solve, we can help you discover the best solution and curate an AI Tutor team for your needs.
Reach out to discuss what kind of experts or languages can propel your product forward.
Talk to us