Social authorization is now available for all Toloka requesters. You can log in to the Toloka platform using your existing accounts at Google, Facebook, Microsoft or GitHub.
Action required! To continue using Toloka, you need to connect a social account to your existing Toloka profile before August 14. You can connect a single social account or choose to connect them all to your Toloka profile and use any of them to sign in to Toloka.
How to get started with social authorization
To enable social authorization for your account, you need to complete 3 steps.
Go to the login page and click "Use legacy Toloka account".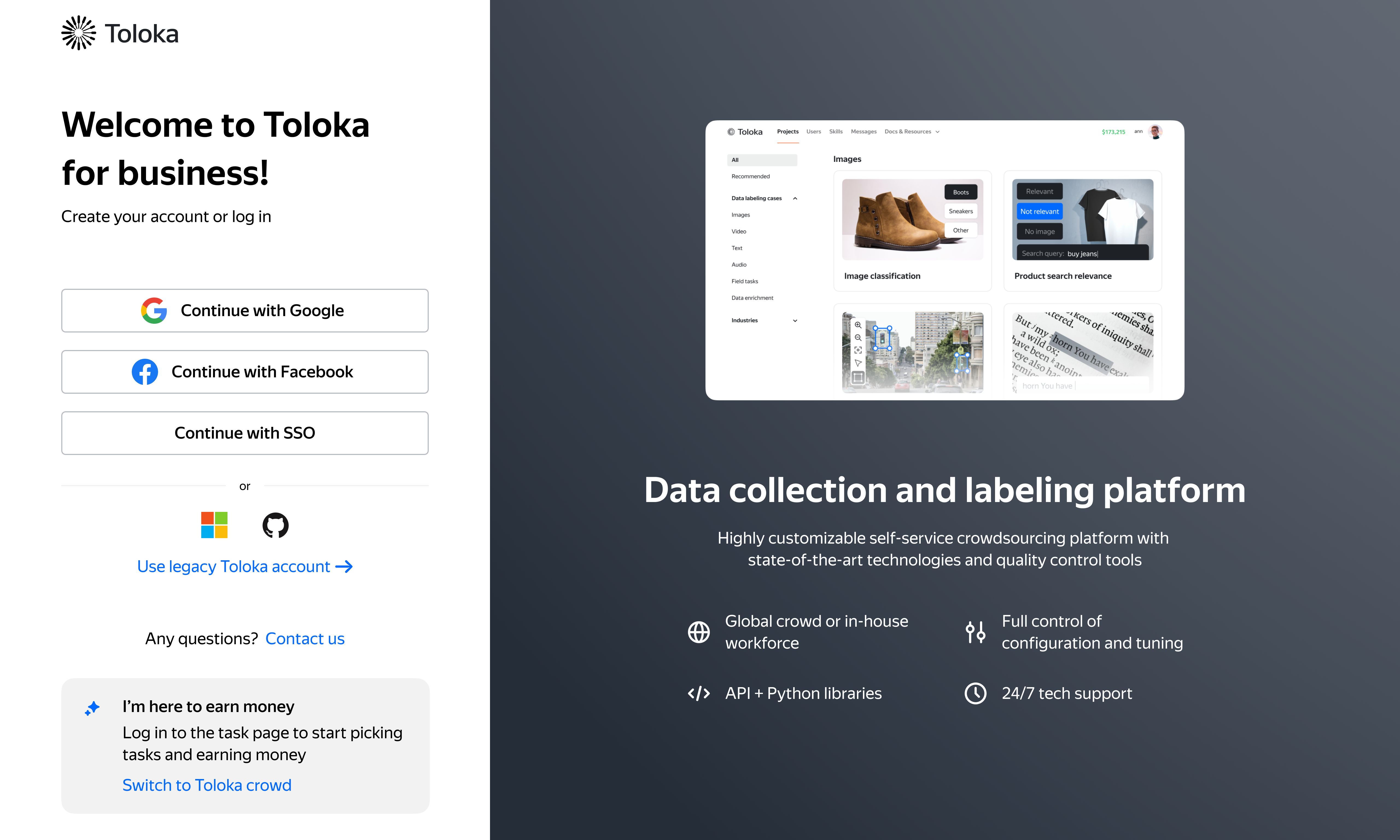 After you log in, you'll see a banner at the top of the Toloka platform interface — click on it.

A window opens where you can connect social accounts to your current Toloka account. Choose at least one of the social account options to connect. If you decide to connect multiple social accounts, you will be able to use any of them to log in to Toloka.
To learn more, see the docs. After completing these 3 steps, you will be able to log in to Toloka with your confirmed social accounts.
We encourage you to connect social accounts before August 14. You'll be able to change the list of your connected accounts whenever you'd like to.
What about API access?
New API keys are available for all requesters. You can generate up to 50 keys per Toloka account.
After connecting social accounts to your profile, your old tokens will continue to work until they expire. We recommend replacing old tokens with new API keys as soon as possible. To learn more, see the docs.
What are the options for shared access?
Now you can share an account with your team and grant access using social authorization. Team members must register in Toloka and get a User ID. Access via single sign-on (SSO) is also available if your organization uses it. To learn more, see the docs.
If you have any questions, reach out to support or your personal Toloka manager. We'll be happy to help!